9:00am (traditional), 10:30am (contemporary)
Complete Worship Schedule
Bethel News
Meet your friends and family at J.T. McHart's
on May 28 and enjoy some delicious pizza while raising funds in support of the Labor Day Retreat. All money raised will help offset the cost for this annual event. Print and bring these coupons
.
Sail off to the North Bay for kayaking on the Pacific and then end the day with cheese tasting. This Out And About event is July 13. Sign up in the narthex/Welcome Zone.
Join the Evergreens on Thursday, May 23 at 10:30am in the Fireside room. Hear guest speaker Dawn Haskins talk about "10 Warning Signs of Alzheimers" and then enjoy some lunch. Dawn wrote the blog article My Life As A Caregiver
in 2011. Please rsvp to Shirley Gross.
Registration for Vacation Bible School, July 8–12, is open! Read more and register.
Exercise your curiosity! A new session of Fun with Faith began May 15!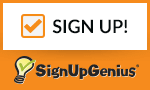 A light dinner is served at 6:15pm in Torvend and classes begin at 7pm—bring a friend. Please sign up for dinner and classes, either on Sunday mornings at Bethel or online. Read the Spring Class Schedule
.
Congregations have been hard at work at work on a Mt Cross remodel. See Holly's pictures or better, come up for a visit and see all the new improvements! Contact Holly Lofgren for more information.
Bethel has some Great Opportunities to Serve. Please consider volunteering for one of these openings.
Read our new Annual Report
and proposed Constitution online.
Mark your calendars for upcoming Out and About Adventures.
Find the latest Time and Talent Opportunities online and respond to God's extravagant generosity! This list is updated regularly.
Website Hints
Send an e-mail to any Bethel pastor, staff member, council member or ministry leader
See the monthly view of Bethel's event calendar. Click on any item for details
You can hear or download past sermons online
Click the Bethel logo in the upper left corner of most pages on this Web site to return to the home page